Making sure your file meets our print criteria will ensure that you get the best product we can give you. We are also happy to assist you in this process.
BLEEDS
Does your file's color go to the edge of the paper?If so, then we would need your artwork to come with BLEEDS. This is when the artwork extends .125 inches beyond the actual size of the art on each side. This extra .125 inches will get trimmed off in production; this is to ensure that there are no white edges on your printed piece.
SAFE AREA
Keep your Important Items in the Safe AreaIt is recommended that there be a .125 inch space between your text/items of importance and the edge of your art. This ensures that nothing is accidentally cropped off in the production process.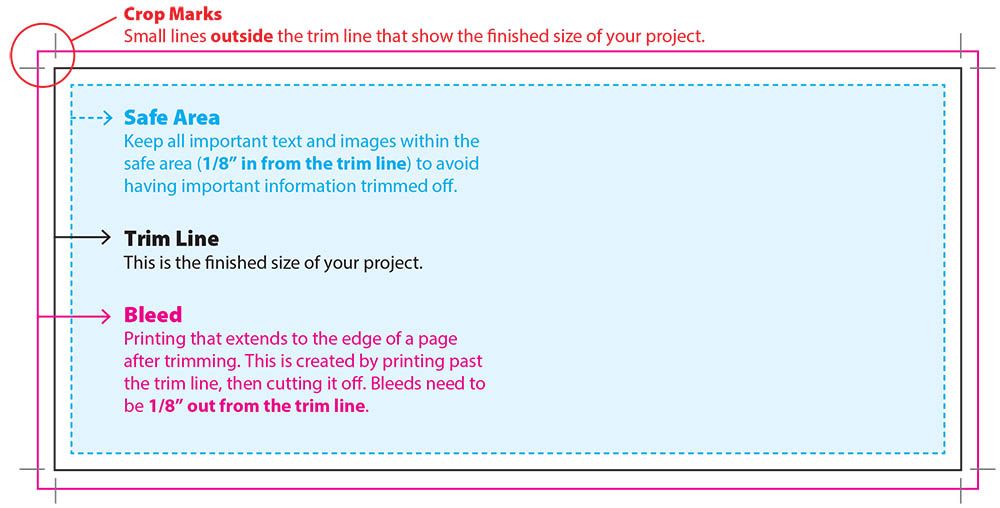 QUALITY
Have your art look its bestThe general rule of thumb is the higher the quality, the better. In order for your items to be printed in high quality, it is best that your artwork's resolution is at least 300 dpi (dots per inch.) For large format items, this may need increased.
FILE TYPES
How you send the file is importantNACO Printing's preferred file format is PDF. We can also work with image files such as jpg, png, gif, tiff, and esp. We can also accept files from Microsoft Word, Excel, Powerpoint, and Publisher as well as Adobe Photoshop, Illustrator, and Indesign. We CANNOT accept CAD or Corel Draw files.
Full Color vs. 1 Color
Is your one color item truly one color?Offset and Digital presses print using a mixture of 4 colors called "CMYK" colors (Cyan, Yellow, Magenta and Black) which are used to reproduce the full color spectrum in printing that we see in posters, brochures, calendars, etc. Here at NACO, we receive many files that claim they are "one color" but are, in fact, a mixture of all 4 CMYK colors, thus making it full color artwork instead of just one.

We recommended using colors from the Pantone Matching System(PMS) if your item is not meant to be printed in full color. Similar to picking out paint for your house, each PMS color uses a specific formula and is assigned a number. If you are printing something like letterhead/envelopes, PMS colors are highly recommended. If you are printing digital files such as booklets and flyers, normal CMYK colors are just fine. If you are unsure, we will be happy to assist you in this process.