Larry J. Deiters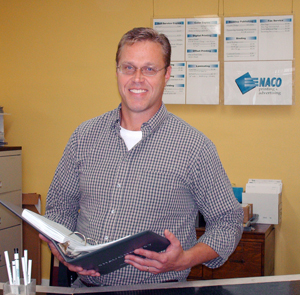 General Manager/Sales Manager
Larry and his wife Darla purcahsed NACO Printing in 2001. Since that time, they have invested in improved equipment and staff training so that customers can expect excellent customer service, quality printing, and competitive prices.
Larry married Darla(Kalmer) in 1984. Outside of the business, they enjoy their three children, Emily, Jake, and Zachary. All three kids have been, or are, active in sports and extracurricular activities. They also spend some time on the golf course and boating with friends. Since both of their boys were diagnosed with Type 1 Juvenile Diabetes, the family has been an active supporter of JDRF, and also hosts a growing support group for area families affected by Juvenile Diabetes.
Larry is a past-president of Chamber of Commerce and the Lions Club, a trustee of his church, along with several other local organizations.